What is SEO?
SEO is an acronym for "Search Engine Optimization", the process of getting traffic from the free, organic, or natural search results on search engines.
All major search engines such as Google, Bing and Yahoo have primary search results where web pages and other related content like videos or local business listings are shown and positioned based on what the search engine finds most relevant to users.
SEO is the process that organisations go through to help make sure that their site is ranking high in the search engine results for relevant keywords and phrases.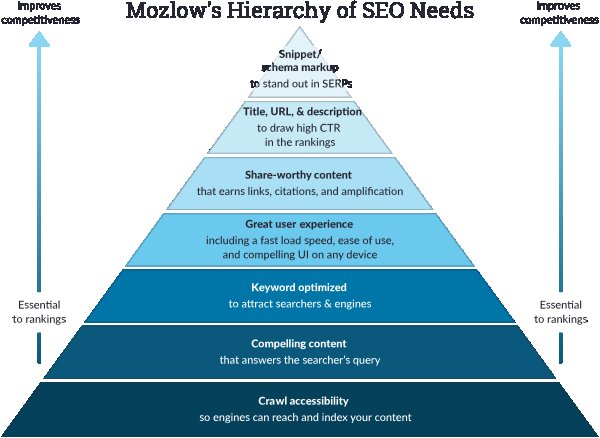 Image credit : MOZ
Advantages of SEO
There are several advantages of SEO for your business. By improving your SEO, you can expand the visibility of your website on search engines. Doing this helps you reach and engage more and more potential customers to your business. By creating more effective and SEO focused content, you can increase your chances of driving more free traffic to your website.
More relevant free traffic = more potential customers
How Does Search Engine Optimization work?
Although search engines are continuously refining how they rank web pages, there remain 2 main factors that are the foundations of getting a Page 1 result.
On-Page Optimization
The on-page work for SEO is all about optimising the aspects of your website. On-page factors include, but are not limited to:
Technical set up and the quality of the website
Embedding relevant keywords within the content
Matching existing content to target specific keyword clusters
Creating new content to target specific keyword clusters
Having the best website infrastructure and architecture
Off-Page Optimization
In addition to on-page SEO elements that your organization has control over, there are also off-page factors that will impact your rankings. Though you don't have any direct control over these factors, there are tasks that you can implement to have these factors work out in your favour.
Having a relevant and active social media presence
Creating citations about your business
Creating a blog outreach strategy
Developing a profile of high quality, relevant and on-theme links from authorized web sites
SEO – a Game of Strategy
Search engine optimization involves strategy, techniques, tactics and finesse. When evaluating web pages, the search engine looks at over 200 signals, and every year they add over 400 refinements. So, a key part of the SEO company's job is to keep your website at the leading edge as the good ones know how SEO works.
Final Takeaways
After learning more about what is SEO and how it works, you can hire an SEO company to improve your SEO and boost your rankings on search engines. Remember, search engine optimization takes time to work its magic. You won't experience the benefits of SEO overnight.
Latest posts by Tracey Munn
(see all)
Feel free to follow us & share: