Something we do here at Munn Digital is offer a free 30-minute consultation.
It's to ensure that any new enquiries can have a confidential discussion and a mutual decision can be made as to whether Munn Digital is the best fit, and if the client is the right fit for our business.

We specialise in analytics & tracking, e-commerce, paid advertising and SEO – along with web development.
Anything outside the box, or a small business with a budget we know won't go far, we will refer elsewhere. If we took on the wrong client it would be a disservice to them and to our wonderful team.

This leads me to a new enquiry this week who wanted over 2 hours of free consultation and also wondered why SEO is so expensive. "I've spoken to people overseas who can help me for $199 a month. Why would I pay your team ten times that?". Let me tell you why.

Why SEO is so expensive
Once upon a time, SEO was simple. Actually, that's not quite true, looking back 10 years ago it didn't seem simple, but hindsight is a wonderful thing.
Here is a little matrix of how things have changed.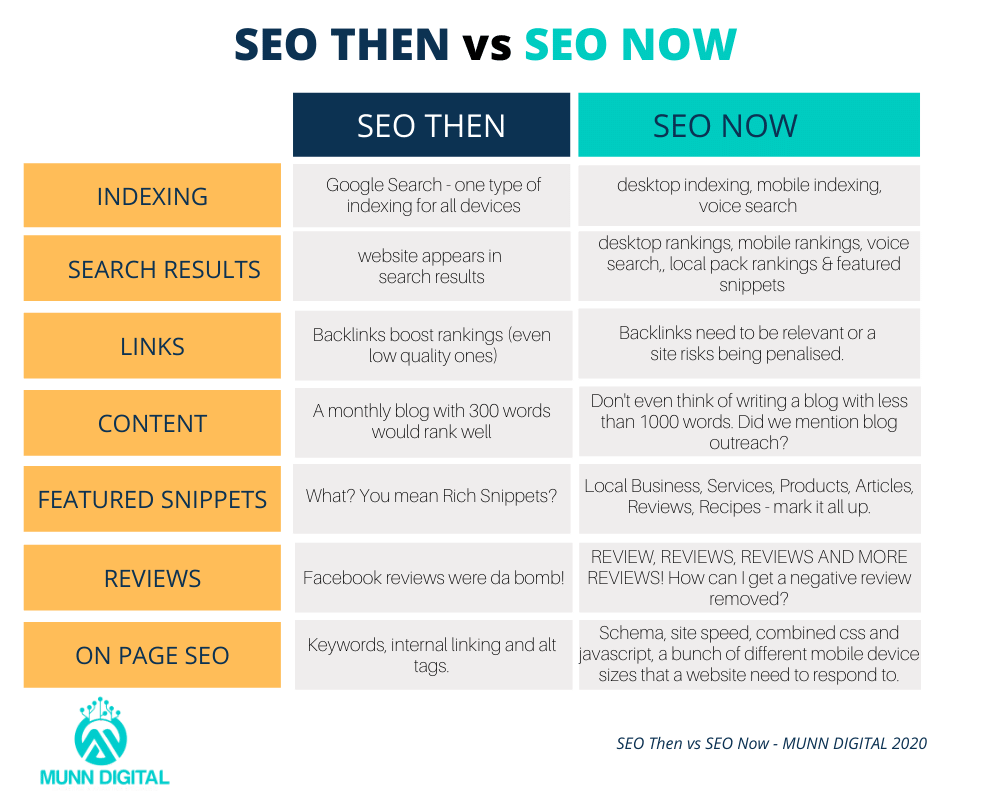 Those of us who have spent at least 10 years in the industry have experienced dramatic changes in the digital landscape. Any decent SEO consultant will continue to study best practice, closely monitor updates & algorithm changes, monitor and analyse data.

What hasn't changed a great deal in that time is the cost of SEO. Many businesses still expect to pay peanuts for SEO. To cover everything included in the matrix above (and more) takes hours and hours of work a month. If an SEO provider is worth their weight in gold, it will also mean an increase in organic traffic and an increase in conversions. What happens after that form is sent, or after the call is made (or the sale is processed), is not our role. Driving the conversion is.
How many hours a month are spent on SEO
SEO is not an automated process. There is no magic button, most of the work involved is manual and time-consuming.
We need to be tech-savvy, creative thinkers, lovers of study, masters of analytics, social smarties, content writers and web developers.
To get the very best result for a client, we also need to study their competition and create strategies to beat them.
For one single client, this is a minimum of 20 hours a month. Less will not get the best results. The results will be okay but not the best.
Why are there still cheap SEO companies then?
Cheap SEO companies may suit some businesses. However, any business who wants long term results and industry domination need to seriously consider how much effort is going into SEO that costs $199 a month?
Whilst a company may feel they are better off saving their money on SEO, the investment is unlikely to capitalise any time soon.
SEO is expensive because it requires a combination of skills to drive results. Rankings are only a small part of the puzzle. If your SEO is super cheap then seriously consider what exactly you are getting for your investment.

Latest posts by Tracey Munn
(see all)
Feel free to follow us & share: