Facebook Advertisers come with a variety of skill levels. From the novice with zero Facebook experience (that's right, not everyone has a Facebook account 😱), to the Facebook Ad Master with years of experience and advanced knowledge of Facebook Ads, Facebook Analytics and Facebook Business Tools.
To help readers understand the different levels of Facebook Advertiser skills, our infographic below outlines what we consider to be the six primary Facebook Ad Skill Levels. 👇🏻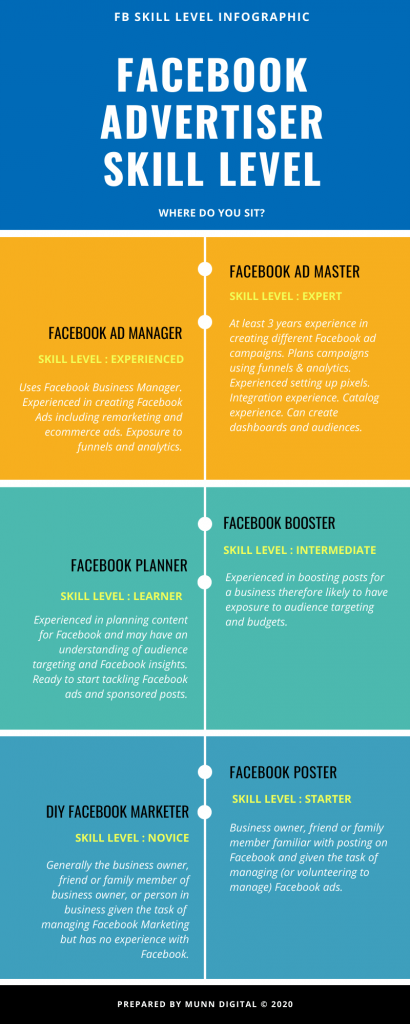 Hang on, I thought this article was about Facebook Ad ROI?
Stick with me, this will all make sense.
At my agency, Munn Digital, we talk to new clients weekly about Facebook Ads. Some clients are new to Facebook, others are yet to see any success from Facebook Ads and are seeking assistance.
In most cases, 90% of clients we talk to have dabbled in Facebook ads, spending a lot yet making very little. In fact, most of them have a negative campaign ROI (the campaigns have made a loss).

Why do they come to us? Munn Digital Facebook Ad clients rarely experience an ROI of less than 400% (that's a return of $4 for every $1 spent). Our average Facebook Advertising ROI is 600%.

How do we achieve these results? This is where we refer back to the Skill Set Infographic ☝🏼

With 30 years of combined experience alongside qualifications in Facebook Ads, Analytics and Psychology, planning and funnel preparation we have highly experienced Facebook Ad Masters here.

This is why we achieve such high ROI's – because we have dedicated ourselves to learning Facebook Ads inside out. We also each take at least 2 hours per week to advance our skills.

60% of Facebook Advertisers fall into the Facebook Planner or Facebook Poster skill set. Achieving high ROI's doesn't happen because the skills are not present to know how to achieve such results.

So how does the average Facebook Advertiser achieve an ROI of 600%?
To achieve an ROI of 600% you need to do the following:
Update your skillset. There are literally hundreds of advanced Facebook courses online. Invest in upskilling.
Master Facebook Audiences. Make sure you have a working Facebook Pixel on your website (if not contact Munn Digital for assistance). Once you have an Active Facebook Pixel you will be able to collect Audience Insights, learn about your audience and create Custom Audiences for more precise & effective audience targeting.
Learn to create funnels. Creating an ad without a funnel is like building a house without walls. Geru has an outstanding funnel simulator which even helps you calculate profit from your proposed funnel.
Never set and forget! Ad results should be checked daily. Tweak, edit, and monitor the campaigns and ads.
Create awesome ads. From the images to the copy (words), be unique and clear about your offer. Extra note – homemade graphics look unprofessional. Either hire a graphic designer or take advantage of using the free templates on Canva.
Understand retargeting. There are different ways to retarget with Facebook. This article on retargeting by Ad Espresso is a great little guide to setting up different types of Facebook retargeting audiences.
Understand your customer demographics. At Munn Digital, we create Customer Avatars based on research from both Facebook Audience Insights & Google Analytics. We know occupations / age / gender / interests / other pages our targeted audience like / location / preferred device. The more you know about your audience, the better you can target potential customers and get that sale or lead.
Ensure your landing page is optimised for conversions.
I need results today, where should I start?
The first thing you need to do is review the infographic at the start of this article and ask yourself which skill level the person managing your Facebook Ads is at.
Anything less than FACEBOOK AD MANAGER Skill Level, you have answered your own question. The issue of low or negative ROI may likely sit with the person running your ad campaigns.
The first thing you need to do is request an audit of your Facebook Ad Campaigns.
In under a week, you will have a fully audited campaign with an accompanying report including improvements and recommendations.

We recommend doing the above before replacing your Facebook Ad Manager as there may be many factors contributing to the poor performance.
In Summary
Achieving an ROI of 600% is possible. It is, however, unlikely if the person running your Facebook Ad Campaigns is inexperienced.
Follow our steps, invest in upskilling or hire a Facebook Advertising Master. For an ROI of 600% isn't it worth the effort?
Latest posts by Tracey Munn
(see all)
Feel free to follow us & share: